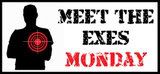 Miss Attitude is back with more Meet the Exes tales! Now to be clear, I've all but given up dating in the New Year. And before you start throwing me a pity party or giving me go on and get back out there tips, I'm going to enlighten you with a few of last year's dating debacles so the picture is clear why I've OK with being single.
Mr. Hazmat Suit is a man I met through an online dating site. I will be perfectly honest, I wasn't sure if I'd be attracted to him when we first connected. A couple of his pictures showed he might be cute ( you know what I'm talking about.. those hard to tell shots!) but one showed him in a Hazmat suit. That should have triggered "danger zone" in my mind, but sadly it didn't.


We were messaging, and then eventually texting. Then he kept wanting to talk on the phone. I resisted at first, because throughout the years I've learned you can almost convince yourself someone could "possibly" be a good match just because the phone conversations go well. One of the problems with that is it's hard to tell when someone is being truthful or not, especially if you've never met them.
He seemed pretty harmless, except for his job description which explained the Hazmat suit (Well not exactly why he'd post it on a dating site profile lol.) When we finally met in person, there was an attraction. But there were also some red flags. He mentioned there was a history of bi-polar disease in his close family. I should have just hit the road running, because apparently the apple didn't fall from the tree.
One minute he was being the most sweet, generous man. He took me out on dates, treating most of the time, picked me up, opened and closed my door, held my hand, took me to a little more romantic spots than most of my dates before that. The next minute he was mad at me for no reason. And we're not talking normal person mad. We're talking irrational, unable to comprehend why mad at me.
Why didn't I cut it off right then and there? My past should speak for itself, but he would immediately follow that up with really attentive behavior. I figured it's not like I was going to marry him or anything, and we did have a lot of fun – so I let it go. Or tried to anyway.
He lived about 1 1/2 hours away from me, so one weekend he invited me to come over to his place instead of the other way around. He wanted it to be something like a week, and I was thinking let's try two days to be safe. When I got there, he had cooked me dinner and had wine already chilled and waiting. Somewhat romantic based on my current substandards.
We really had a great time, or so I thought until the morning I was leaving. He was barely speaking to me. I just wanted to get my stuff and go… wishing maybe I had a Hazmat suit to protect me from the poisonous environment I began to feel I was in. In a hurry to pack, he was saying make sure I don't leave anything. I did of course, not intentionally to get another invite, but because I was so uncomfortable and wanted the heck out of dodge.
So he called me later that day, to make sure I got in but certainly didn't seem to really care. Then I realized I had left a few things the next day, and after deafening silence I texted and suggested he just mail them to me. He called me later and was just beating around the bush. I could tell he wanted to end things and I wasn't in the mood for drama. So I just said spit it out.
He went on to say he didn't think we were compatible. Well other than him being crazy, what else could it be? I pushed, because well that's what I do. Plus, I'm a straight shooter so tell me the truth. He said one of the main reasons was I "talk too much." I was like.. um… and you just realized that? Of course I talk a lot. That's not news to anyone I know. And after having more than hour-long phone conversations that seemed obvious. So I was kind of pissed. I'm not going to lie.
I kept thinking to myself, I gave you and your Hazmat suit-wearing craziness a shot and you're dumping me for talking to much. I said goodbye and don't bother calling me again. What else is there to say at that point? At least what I do for a living is considered creepy by most people and I only have one personality. Don't let those contaminants affect your brain any more!
Stylishly (and forever single) yours,
Miss Attitude
Tags: hazmat suit, Meet the Exes Monday, online dating, singles