About Me
I'm Miss Attitude and I'm here to help you. If you have a problem, I'm your girl. For years my friends and co-workers have been coming to me for advice. Then in 2008 Miss Attitude appeared on the scene after an employee texted me to say she was home sick instead of picking up the phone and calling.  Working in TV newsrooms, I thought I'd seen it all! I immediately thought "does she seriously think this is acceptable behavior?"
Ever since I've been writing several times a week about anything and everything, from dating dilemmas to workplace woes with a sprinkle of weird news of the day and celebrity craziness. I hope you enjoy it, and I love reading your comments.
In the name of full disclosure, it's important to admit I don't have a background in psychology– unless you count two college courses, and the fact I come from a family of therapists. But I swear on my favorite (and only) pair of Manolos I will give you the best advice I can.
I also promise to keep it anonymous. Don't worry I would never give out your real name unless you want me to. So if you need advice, send your e-mails to missattitude@missattitude.us.

Courtesy: Kellie Hero Photography
Jen Straw is a self-proclaimed social media diva. She is the founder and owner of Last Straw Media, LLC, a full-service social media marketing firm. Jen is also an adjunct professor, teaching media writing, writing for broadcast news and studio television.
She has 14+ years media writing experience and a passion for blogging, social media management and marketing. Jen is an award-winning newscast producer and has spent more than three years as a newsroom manager including positions as a newscast producer, web producer, executive producer, assistant news director and acting news director. She was most recently the community manager at a full service social media marketing firm.
I'm famous!
In 2008, Jen was featured in "Marie Claire" magazine after an editor discovered her Miss Attitude blog and "found some of the remarks poignant, witty and even heartbreaking."
Courtesy: Lisa Wiseman Photography
A Brief Interview with Dr. Rob at ShrinkTak.net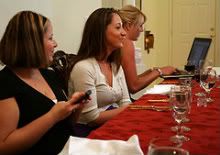 Courtesy: Jeff Houck
Food apps taking dining to a whole new level
If you're interested in Jen's work, please e-mail Miss Attitude at missattitude@missattitude.us.